If you love to post animals on instagram, you will like to know Animal hashtags to add to your posts.
Find and use the most popular animal hashtags in Tags App for iPhone and iPad and/or Tags Pro for iPhone and iPad.
To get the list of the best animal hashtags and to use (copy/paste) them do the following:
1.download Tags app or Tags Pro App for iPhone , iPad on the App Store : Download Tags App , Download Tags Pro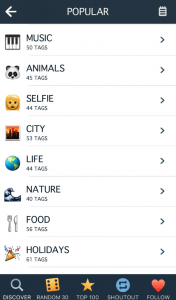 2. Open the app and tap Animal Hashtags category
3. Find Animal subcategory and tap it. You will find more than 40 animals hashtags for instagram inside, including: animalviews, petstagram, petslover, pet and many more. You can copy and paste them to instagram fast with Tags App and Tags Pro.
4. Select hashtags and copy/paste them to instagram or another networks.
Download Tags App for Free Today
Download and open Tags Pro app : Tags Pro
Download  Tags Pro for full functionality and to unlock all categories of hashtags.