Food is one of the most popular categories on instagram
If you are a food blogger, or just love to make food photos, you'll probably need the right hashtags for your pictures.
You can find popular food hashtags in Tags App for iPhone and iPad and/or Tags Pro for iPhone and iPad.
To get the list of the best food hashtags and to use (copy/paste) them do the following:
1.download Tags app or Tags Pro App for iPhone , iPad on the App Store : Download Tags App , Download Tags Pro (Pro version has no limits and it has all the categories unlocked)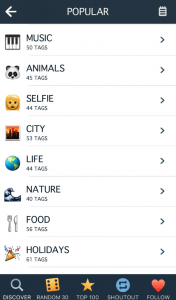 2. Open the app and tap Popular Tags category
3. Find Food subcategory and tap it. You will find more than 56 hashtags inside dedicated to food, that can be easily copy pasted to instagram or other social networks.
4. Select hashtags and copy/paste them to instagram or another networks.
Enjoy best food hashtags for instagram and other networks!
Download Tags App for Free
If you want to be more specific and want to be able to paste on different subcategories of food hashtags, download Tags Pro and after that go to Food & Drinks category, inside it you will find various subcategories of hashtags: Food Top, Dinner, Supper, Breakfast, Wine, Pizza, Chocolate, Drinks, Lunch, Coffee, Dessert, Pasta, Vegetarian, Seafood, Kitchen, Cooking, Milk with more than 30 hashtags in each subcategory.
Download Tags Pro for full functionality and to unlock all categories of hashtags.